The Italian Cypress was a long favorite for North Texans. It wasn't until the major freezes in the Winter of 2016 that we really realized the weaknesses of this tree. While there have been many debates about what caused so many Italian Cypress trees to start turning brown and some even die, all of us in the industry can agree that it all started with the freezes and dramatic temperature fluctuations that December.
After the huge losses that we had a the farm we made the tough decision to take the Italian Cypress off our inventory offerings for good. After lots of research and trials we decided to introduce the Eastern Red Cedar 'Taylor' aka Taylor Juniper. Since then this tree has been a wonderful replacement for our customers who love the columar look of Italian Cypress trees, but don't like the negative traits they have.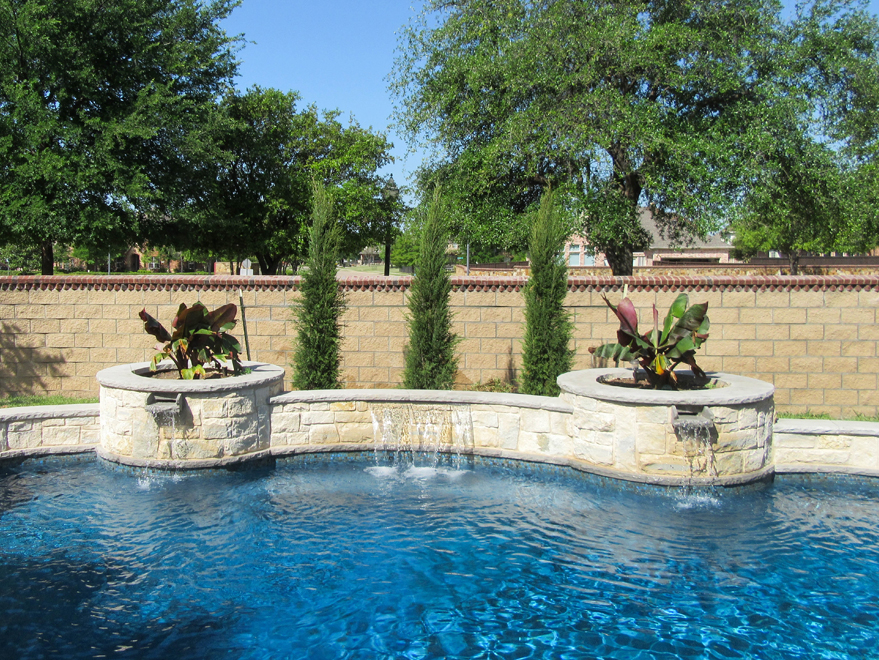 WHAT  MAKES  THE  TAYLOR  JUNIPER  A  BETTER  TREE THAN THE ITALIAN CYPRESS?
More Cold Hardy 
More Drought Tolerant
More Heat Tolerant
More Disease Resistant
Denser Branching
The Taylor Juniper was actually first discovered in Taylor Nebraska, hence it's namesake. As many know, the weather can be pretty brutally cold in Nebraska, and the Taylor Juniper not only withstands such weather, but thrives in it. We talked with a vendor up North, and they have a hard time keeping this tree stocked up there because it does so well. The Taylors can be planted in zones 3-9, with North Texas falling under zone 8.
Eastern Red Cedars are Native to Texas and do very well in our Texas Summers, therefore the Taylors which are a cultivar of them also get to reap those drought & heat tolerant benefits. After Eastern Red Cedars are watered for about 2 years and the roots have developed then they are able to sustain themselves without weekly waterings. This makes for a more water conscious landscape and responsible landscaping.
Eastern Red Cedars and their cultivars are naturally more disease resistant than the Italian Cypress. For years Italian Cypress trees have been thrust into landscapes throughout Dallas Metroplex because of their unique shape but they have a lot of issues which include: Phytophthora Root Rot, Seridium Canker, Spider Mites and they are susceptible to cold weather. With this introduction of the Taylor Juniper all of those issues are solved while keeping the desired look of an Italian Cypress.
This handsome tree maintains a more dense foliage than the Italian Cypress. The leaves are also a tinge more blue/green than the green Italian Cypress. Most landscapes incorporate Taylor Junipers by planted them as hedges in narrow areas between a pool and fence or as accent pieces flanking doorways. Checkout our online galleries to view different installations using Taylor Junipers.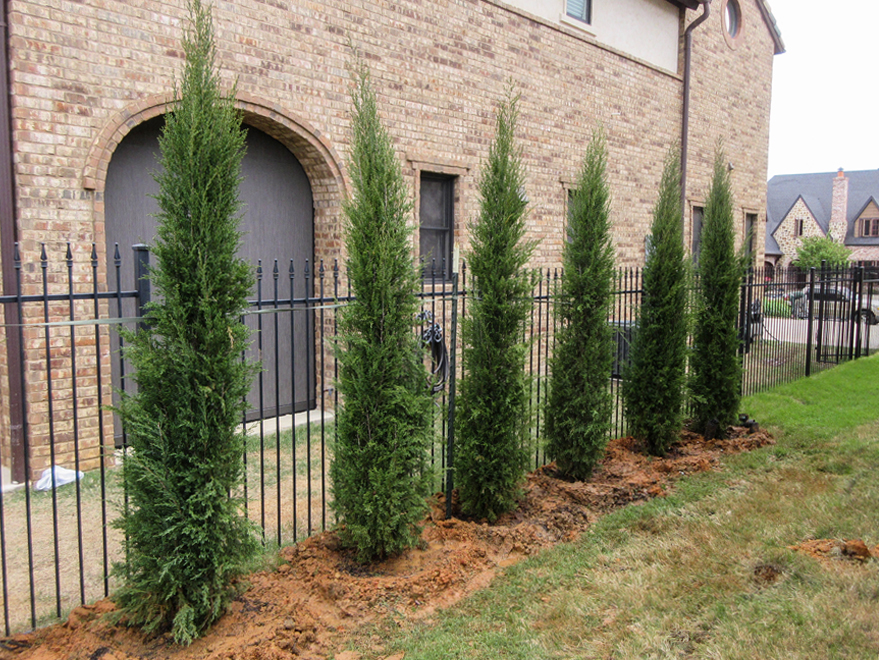 MORE REASONS TO PLANT A TAYLOR JUNIPER
Evergreen
Deer Resistant
Narrow Columar Form
Makes a Great Privacy Screen
Perfect for Flanking Entrances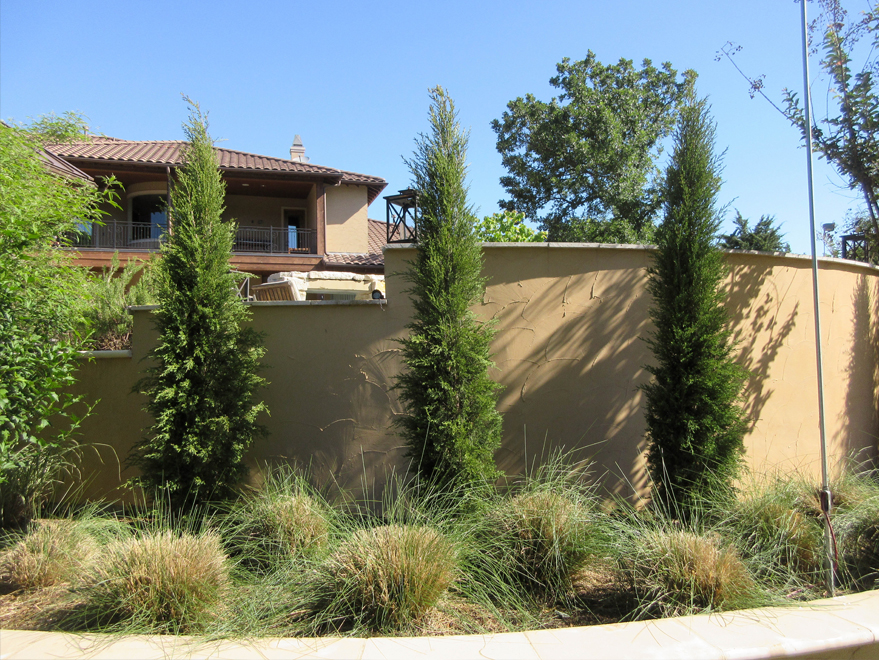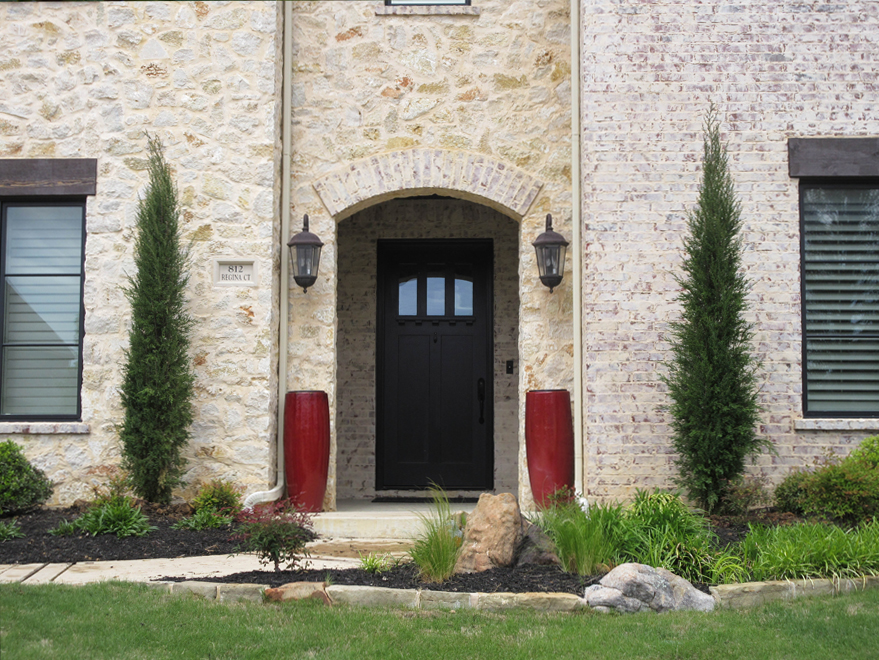 If you live in the Dallas-Fort Worth area and are interested in incorporating Taylor Junipers into your landscape make sure to give us a call. Check out our inventory & pricing page to see our up to date product inventory by clicking here.