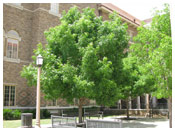 The Chinese Pistachio is highly recommended by horticultural experts at Texas A&M, Oklahoma State and Kansas State Universities. The Chinese Pistachio is a medium sized ornamental tree from China and Taiwan that is extremely winter hardy and has a superior level of drought, heat and wind tolerance. The Chinese Pistachio is the first shade tree to receive the coveted "Earth-Kind" designation from the Texas Agricultural Extension Service for its high levels of genetic resistance to insect and disease problems. The Chinese Pistachio has extremely hard, durable wood which helps protect the tree from wind, ice and decay. Chinese Pistachio trees have a medium to fine textured foliage that remains an attractive deep green color during the growing season and a spectacular fall color in shades of orange, red, and crimson. In the summer the female Chinese Pistachio produces panicles of inconspicuous red dish flowers that are followed by small green berries that turn red to reddish-purple in the fall, which are relished by birds.
| | | | |
| --- | --- | --- | --- |
| Growth Rate | Evergreen or Deciduous | Height Mature | Width Mature |
| 2.5' Per Year | Deciduous | 30' | 25' |
Additional Chinese Pistachio Pictures:
Chinese Pistachio
45 Gallon 3.00"

Chinese Pistachio
45 Gallon 3.00"

Chinese Pistachio
45 Gallon 3.50"
Chinese Pistachio
45 Gallon 3.50"

Chinese Pistachio
95 Gallon

Chinese Pistachio
95 Gallon
Chinese Pistachio
Leaf

Chinese Pistachio
Fall Color
Search Phrases: Chinese Pistachio, Chinese Pistachio Tree, Dallas, Texas