I always love visiting my future in-laws who live in Washington State, just North of Seattle. The above picture is actually their gorgeous house with their picturesque gardens. You can see they too have a few arborvitaes in the corner of the yard that they keep pruned smaller. Washington is truly the Evergreen State as advertised and really rich in color during the Winter with all of their pine and fir trees. One evergreen plant that I couldn't help but notice up there was the Arborvitae. In fact, there were so many of them that Washington almost seems like Arborvitae Capital USA. You literally see them in every yard up there, not even exaggerating a tiny bit. It's so popular because it's one of the few hardy evergreens that stays more compact, and can be used to create a solid hedge while tolerating their harsh winters.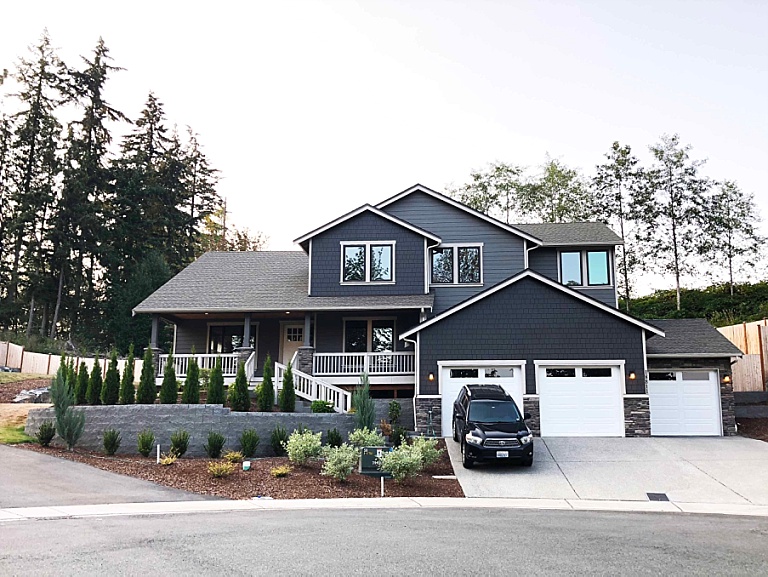 While there are many plants that can enjoy both Texas & Washington State weather, the arborvitaes are not one of them.  At our tree nursery we seem to get more and more calls for them as they gain in popularity in other states and in online searches. People all over America go to Google and type in "fast growing privacy screen trees" and boom, arborvitaes are always some of the first to show up. Honestly, we truly wish we could sell them but know that they really do not fare well in Texas.  We are even one of the few nurseries who refuse to give in to customer demand since we know the Arborvitae trees are just not meant for North Texas. Many websites who sell them even exaggerate the temperate zones that they thrive in in order to broaden their market. Even some local nurseries here have started selling them, and it truly kills us to see so many giving into the customer demand for Arborvitaes.
Why are the Arborvitaes not well suited for North Texas?
It's not the soils or Winters, it is our Summer heat that really causes extreme stress on the tree. It's not to say that Texas will provide a scorcher every Summer, but the Arborvitaes are just one hot Summer away from kicking the bucket when we have long periods of triple digits. The effect of a tree under such stress is going to be similar to the stress that everyone saw around town from the Italian Cypress trees in 2016. The Italians have the reverse problem, they do not like such cold Winters. Once stressed they start to loose limbs, brown, and even become more susceptible to pests and diseases.
Neil Sperry, our North Texas plant Guru has spoken over the years about Arborvitaes as well, and here are some comments that he made in the past year about the tree, "My experiences, and those of many others, with this type of arborvitae have not been stellar. I've tried it twice (won't again), and mine died slowly over the first summer. Spider mites were partly involved (see answer to prior question), but they also didn't like the heat."
IF NOT Arborvitaes, Then what trees can i plant for PRivacy screening in Texas?
We are so glad you asked! We have lots of options that are extremely hardy and meant for North Texas soils and climate. At Treeland we only sell the most hardy and suitable trees for North Texas at our nursery. If any trees give us any trouble over the years then they get cut from out tree menu. Checkout our top privacy screen tree recommendations (in order of popularity) below along with some inspiration pictures. You can view our entire Privacy Screen List on our website by clicking here.
We sell these in full to the ground and tree form (single trunk) options. Customers really enjoy the tree form options between fences and pools as they are able to prune the hollies up high above the fence without crowding the yard or pool area. They are fast growing at 2′ average growth per year and can grown to 20′ H x 14′ W.  In the Winter the hollies are adorned with rich red berries.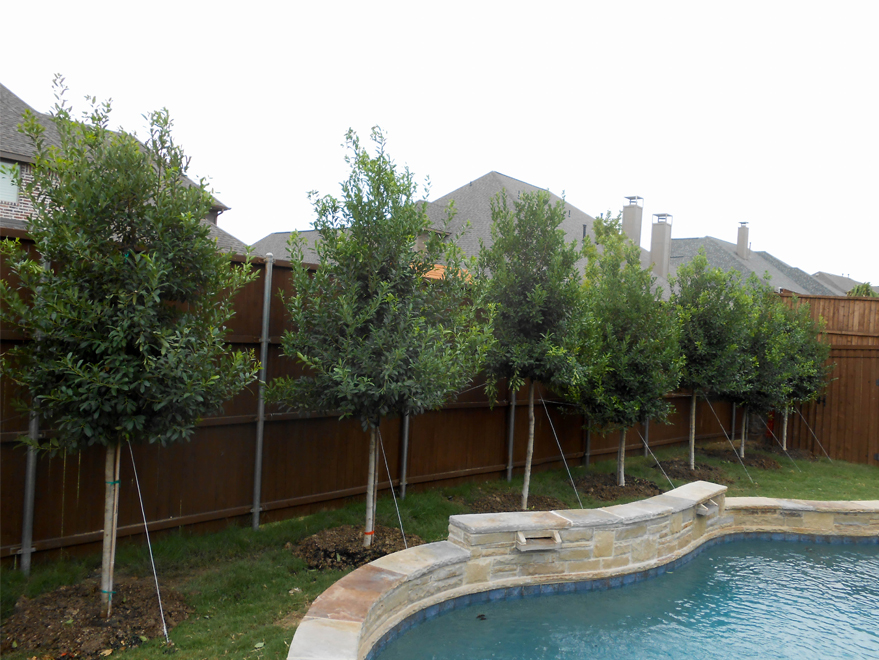 The classic Eastern Red Cedar is Native to Texas and provides excellent coverage on a larger scale with a mature size of 25'H x 20′ W. In late fall, the female Eastern Red Cedars produce blue colored berries.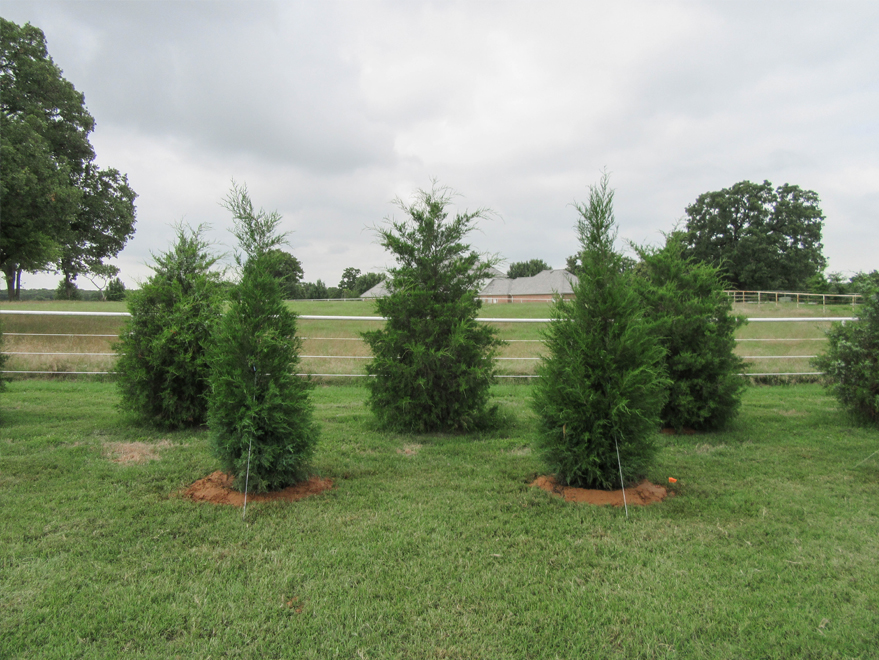 Brodies are a cultivar of the classic Eastern Red Cedar.  Brodies will reach a mature width of 12' which gives them more versatility in smaller landscapes and they are often used as privacy screens in narrower landscapes. Another benefit is that this variety is entirely female only, and does not produce any pollen.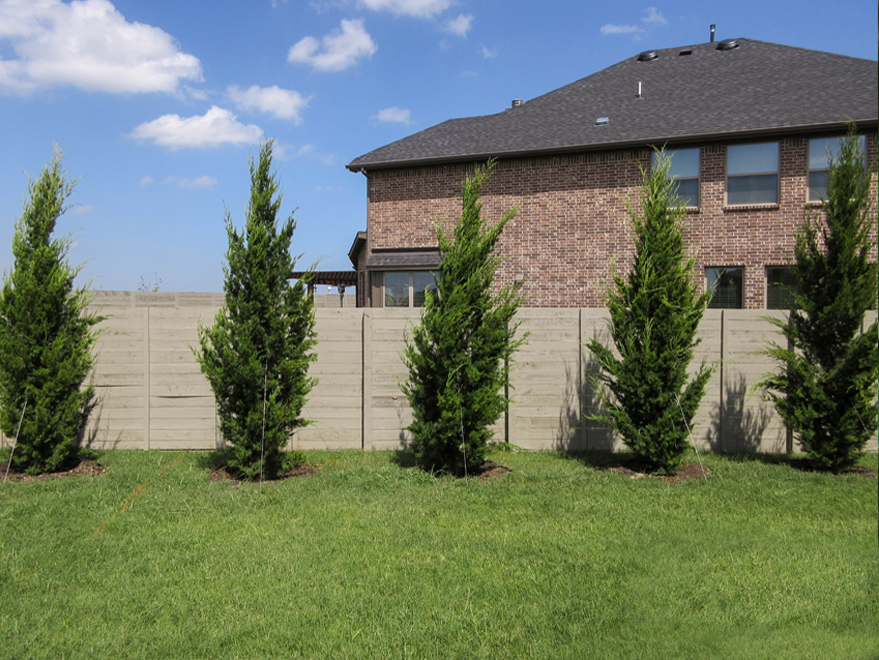 This cultivar of Eastern Red Cedar was selected because of its narrow and upright growth habit which resembles the look of an Italian Cypress but without the issues. Most landscapes incorporate Eastern Red Cedar  'Taylors' aka Taylor Junipers, by planted them as hedges in narrow areas between a pool and fence or as accent pieces flanking doorways. At maturity the Taylors grow to 30'H x 4'W.
We offer full to the ground options in the Nellie R Stevens Hollies, and our customers especially like to use these when screening off wrought iron fences.  This holly provides a rich green backdrop to any landscape and bright red berries in the Winter. They are fast growing at 1.5′ average growth per year and can grow to 16′ H x 12′ W.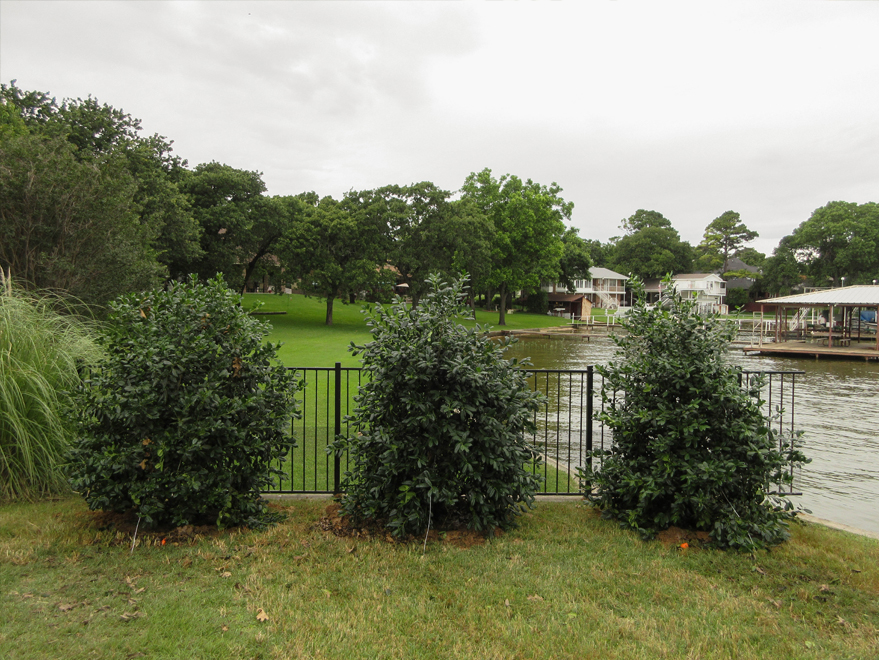 Want to see more inspiration pictures? Checkout our privacy screen gallery by clicking here.
-Denise