Mom has always been a fan of P. Allen Smith, but ever since she visited his residence at Moss Farms she has been gushing with wonderful stories from her visit. I will have to post a follow up blog next to share some of her photos and stories. For now, this delicious pie recipe will have to do.
Part of the tour and visit to his farm included a homemade lunch. One of the most memorable dishes at that lunch was his Buttermilk Pecan Pie. Since her visit, Mom has already made the pie twice and received rave review, my Fiance included. Then the most recent pie that we made for this blog barely made it to the photoshoot with my Brother trying to eat it before I had a chance to take pictures. Luckily after a serious scoulding the pie made it home with me and I now have these great pictures to share.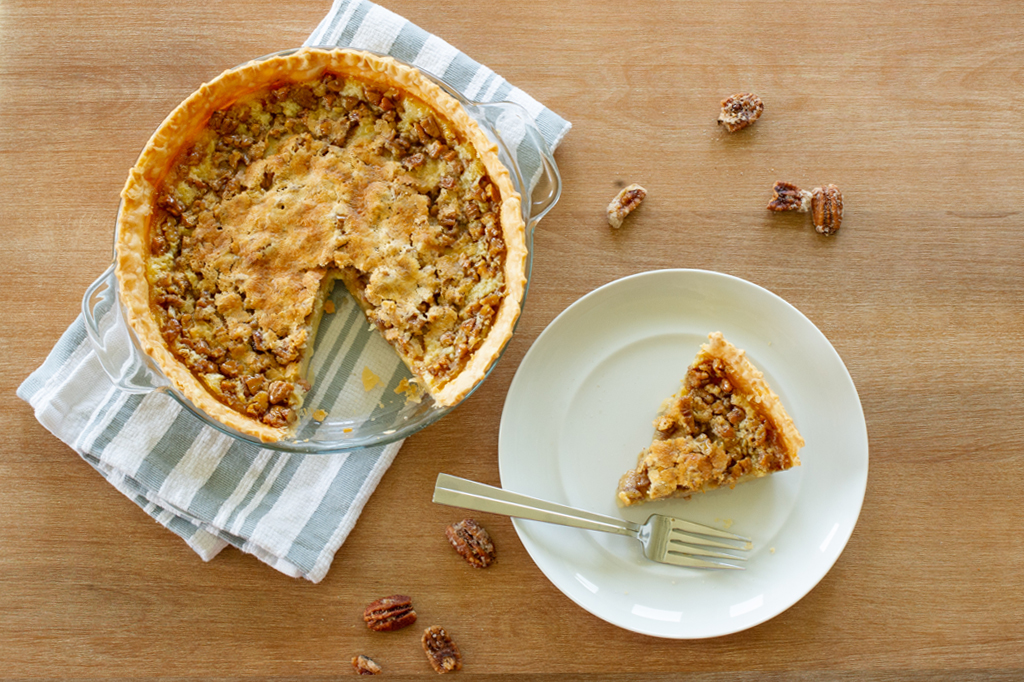 P. Allen Smith's Buttermilk Pecan Pie Recipe ingredients
This easy to make recipe came from P. Allen's old Family cookbook. Surprise your guests with this twist on a classic buttermilk pie.
Crust
1 pie crust, unbaked  (make your own, or purchase a pre-made)
Glazed Pecans
1 cup pecan halves
1/4 cup firmly packed light brown sugar
1/4 cup dark corn syrup
Filling
8 tablespoons (1 stick) butter, melted
1 1/2 cups sugar
3 eggs, beaten
1/4 cup all-purpose flour
1/2 teaspoon salt
1 teaspoon vanilla extract
1 cup buttermilk
first make the glazed pecans
Preheat the oven to 350°F. Line a jelly-roll pan with aluminum foil, and lightly grease the foil.
Stir the pecan halves, light brown sugar, and dark corn syrup together in a small bowl. Spread the mixture out on the jelly-roll pan, and bake, stirring every 4 minutes, for 12 to 15 minutes, or until the glaze thickens.
Remove the pan from the oven and spread the pecans in a single layer on wax paper. Let the pecans cool completely, separating them with a spoon as they cool. Store the glazed pecans indefinitely in an airtight container at room temperature.
Next make the pie filling & BAKe
Leave the oven at 350°F. Combine all the filling ingredients in a mixing bowl, and pour the mixture into the unbaked pie shell. Scatter the chopped glazed pecans evenly on top of the pie filling.
Bake for 50 minutes to 1 hour, or until set. Let the pie cool on a wire rack before serving at room temperature.
Pat's tips
Bake the pie for about 40 minutes and then add the pecans to help prevent them from sinking down into the pie filling.
Checkout this recipe and more in P. Allen's latest book called Seasonal Recipes from the Garden.  P. Allen also recommends serving this with roast chicken and mashed potatoes. Sounds delicious, however, I seem to only like to bake sides and desserts and never cook any main dishes. So sorry to my Fiance!
Let us know if you come up with any extra handy tips when trying this recipe out yourself.
-Denise