I will admit that some people are super hard to shop for during the Holidays, but gardeners should not be one of them. There are endless products for green thumbs, and below I share a few of my favorites along with a few fresh finds that I will be buying for myself.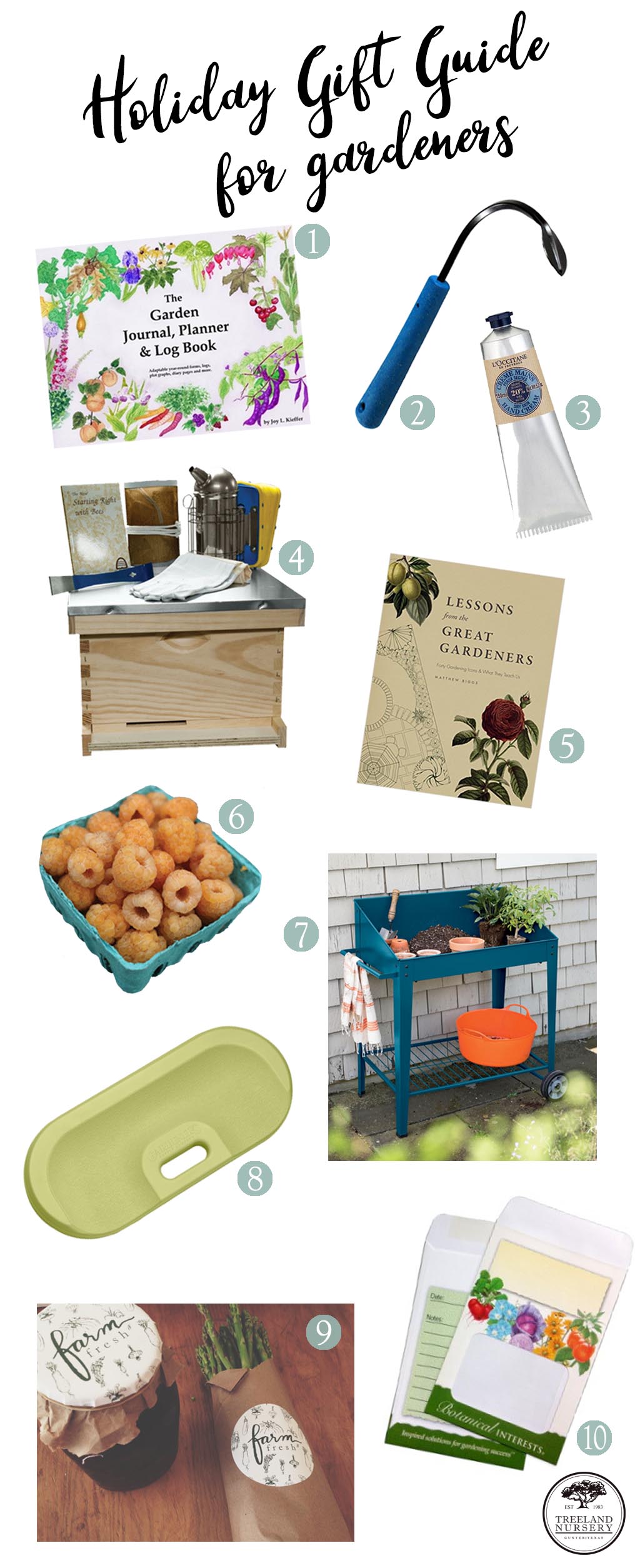 1.The Garden Journal $13.88 | 2.Cobrahead Weeder & Cultivator $24.95 | 3. L'Occitane Shea Butter Hand Cream $12. | 4.Man Lake Beekeeping Starter Kit $195 | 5.Lessons for the Great Gardeners $20.71 | 6.Unique Vegetable & Fruit Seeds from Johnny Seeds $22 | 7.Demeter Potting Bench $89.95 | 8.Garden Ease Kneeling Pad $29.95 | 9.Canning and Packaging Sticker Labels 10.Seed Storage Envelopes $4.95
Want to learn a little more info about these items.
1. I can barely keep all my seeds straight let alone what worked and didn't work each year without a journal. Highly recommend this for gardeners of all levels. | 2. My Mom bought one of these for me a few years ago and I can't imagine pulling weeds without it. Makes it so much faster and easier.  | 3. 20% Shea butter, honey, and almond extract… need I say more. | 4. Many gardeners are welcoming bees to their gardens; which leads to more blooms and vegetable production. | 5. A wonderful book that recognizes all of the great gardeners, and their advice that's been handed down through the centuries. | 6. Johnny Seeds have the most expansive website with the most unique vegetable, fruit, and flower seed offerings. The picture above shows Sweet Anna Raspberries. | 7. Potting benches are always nice to have so you are not having to bend over as often. Wheels are also a plus on this design. | 8. I am always using my kneeling pads when gardening. Once you try one out you will never garden without one. | 9. I am a huge fan of cute packaging, maybe it's to make up for my cooking. Either way these labels are such a great way to add a little charm to your farm fresh gatherings or baked items. | 10. Whether you are collecting seeds from your own garden or gardens you pass by, this designer seed packet makes keeping your seeds organized easy & stylish.
-Denise