Treeland Nursery has a 40 acre tree farm located just southeast of Gunter off of Preston Rd. (State Hwy. 289), which is only 20 miles north of Frisco.
Going North on Hwy. 289 (Preston Rd.)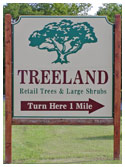 Traveling north on Hwy. 289 you will cross over Hwy. 380 and from this point Treeland is only 16 miles north. You will then pass through the cities of Prosper and Celina before approaching Gunter. Upon passing the Gunter City limit sign look for a 10 ft. Treeland sign on the right side of Hwy. 289, which will direct you to turn right onto Sharp Rd. At this point you will travel 1 mile down Sharp Road until you see a 6' sign at the entrance.